(This post may contain affiliate links. I will earn a commission at no extra cost to you.)

You spent a lot of time watching YouTube videos of people unearthing precious finds.
You want to join them, but the only missing thing is the metal detector…
You are kind of confused between all the brands available in the market. And you're wondering what is the best metal detector?
Congrats, you'll find what you're looking for in this article! And here is a list for the best ones out there:
First, let us start by clarifying one important thing: there's no best universal machine.
Every model is made for a certain task and environment. This is why I divided this article into categories.
You should be able to find exactly what you're looking for. If it's not in this category, it should be listed in the next one.
There is also a buying guide to help you pick the best model for you.
Best metal detector for beginners
The Fisher F22 is a recommended model for beginners along with the bounty hunter 4.
It has an LCD screen that gives you useful information.

It displays the estimated depth of the buried metal along with its conductivity range.
And for more accuracy, the display shows the digital target identification.
But you need to practice for some time to be able to read it.
The screen shows you also the current battery level.
The volume is adjustable and you can set it at different levels for ferrous and non-ferrous targets to help you identify them easier.
You have three preset discrimination modes: jewelry, coins, and relics.
If you don't know what discrimination means, don't worry. I'll explain it at the end of this article after the buyer's guide.
The search coil is waterproof. And, the control box is weatherproof. It can withstand being splashed.
To make locating targets easier for the user, the Fisher F22 is fitted with a pinpoint feature.
You just press the central button and sweep the coil slowly until you get the strongest signal.
With this feature, you'll be able to dig smaller holes.
If you want to learn more about beginner device's, check out this guide.
Best metal detector for gold nuggets

Gold can be either processed (ring, necklace, bracelet, watch…) or in the form of nuggets.
For the first case, most entry-level detectors like the bounty hunter tk4, Fisher F22, ACE 300… can do the task without a problem.
I'll tell you more details about these amazing machines in the following paragraphs. So sit tight…
It's going be an affordable solution for this type of hunting.
But, if you're looking for nuggets, you may need a more advanced device which is more expensive.
One of the recommended choices is the Garrett AT Gold.
Its interface is very similar to the Garrett At pro (a model that I'll review in this post).
You can adjust the ground balance manually or automatically to reach the best performance when you're looking for gold.
If you don't have a lot of money to spend, you can go panning in creeks. This is a very simple technique that needs basic and cheap tools.
Please go check out this post to find out more about gold detectors.
Best device for coins and jewelry
Hunting coins and jewelry isn't very difficult. Basically, any standard metal detector can do the job.
You can use the Fisher F22 or the Garrett ACE 300i. (more details about the ACE 300 in the following paragraphs)
You can also pick the Coinsmaster or the Delta 4000.
The Teknetics Delta 4000 has an 8-inch concentric search coil. It's waterproof and can be submerged without a problem.
It runs on a single 9 V battery that can last for 25 hours. It has 3 tones to ease audio discrimination.
The Coinsmaster is a pretty decent device. However, Its screen looks outdated.
It doesn't have preset discrimination modes. But adjusting it is a piece of cake.
You can select one of five discrimination levels.
It is simple to use and the screen is easy to read. But the user's manual isn't very professional.
Many detectors have a depth indicator, which calibrated with coins.
Therefore its predictions should be very accurate.
Best machine for treasure hunting
A treasure can be found buried in a cache underground or in shipwrecks.
For the latter, you need an underwater metal detector. I'll talk about these in the following paragraphs. So stay tuned!
If the treasure is buried in an island, any affordable metal detector like the bounty hunter 4 can find it.
You only need to install a large coil to extend the depth range of your machine.
However, there's something more important than having the best metal detector, which is…
A treasure map! You need to know where that pirate buried the gold. Right?
If you're looking underwater, you need some historical documents to know more about the ship.
Things like its cargo, size, trajectory…
And if you think treasure hunting is a myth, I've put together a list of 11 REAL treasure hunters!
Budget pick

The bounty hunter TK4 is the most popular metal detector. This is mainly due to its reasonable price.
It has a very simple screen, which displays the signal strength and a low battery indicator.
You only have to adjust the sensitivity, the discrimination level and mode.
The ground balance, the operating frequency, and the volume cannot be adjusted.
This is good if you're new to metal detecting because having too many dials to deal with is confusing.
However, an advanced user may find this inconvenient because he hunts different kinds of soil like wet beach sand and mineralized ground.
And he wants to push his metal detector to the extreme. Maybe he could use it as a backup machine.
The bounty hunter 4 has an 8-inch waterproof search coil. But the control housing isn't waterproof.
It runs on two 9 V batteries. And if you want to extend the battery life, you can use headphones. It's fitted with a ¼ jack.
Best detector for relics
Relics and artifacts can be metallic or non-metallic. If you're looking for something nonferrous like native Americans arrowheads, you can check out this article.
For historical objects made out of iron, copper, bronze… many devices can do the job like the ACE 300i.
The Garrett ACE 300i is a popular metal detector. It's in between entry-level and mid-level devices.

It has a digital ID too but the legend above the screen of the ACE 300 is easier to understand the Fisher's.
Identifying the target before digging a hole will save you a lot of time.
In addition to that, the metal detector has a particular tone for each range of conductivity to help the user distinguish the targets audibly.
It has a depth indicator that gives you a rough estimation of the target's depth depending on its size.
The Garrett ACE 300 I has four preset discrimination modes and one custom mode.
You can customize all of them. However, your settings will be saved only for the custom mode.
It operates on four AA batteries. The coil is waterproof and its size is 7″ x 10″.
The control box is fitted with a ¼" headphones jack. But it doesn't have a rubber cap like the Fisher F22.
The operating frequency is adjustable but the ground balance isn't. This is a feature that is usually meant for more advanced users.
I'll explain what ground balance means when I list the mid-range detectors.
Best underwater MD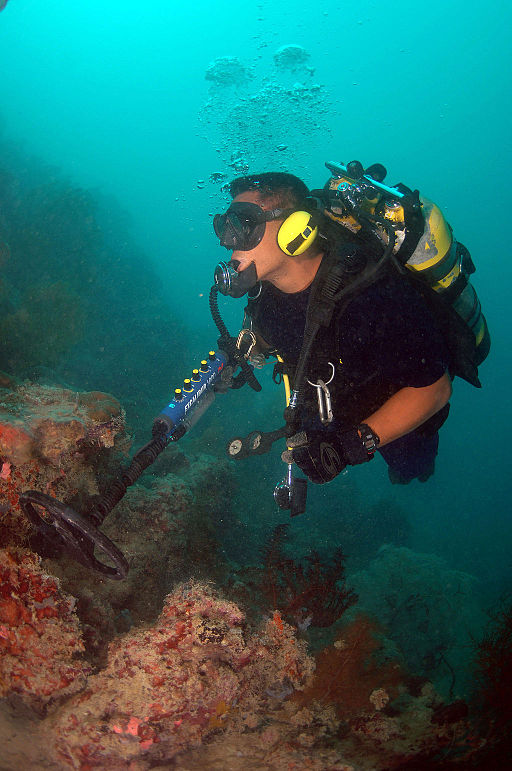 There are two types of underwater metal detectors. Each one of them has pros and cons.
The first one is called PI, an abbreviation of pulse induction. Its performance isn't affected by minerals and wet salty sand.
So if you're a diver, that's a good choice for you.
The problem with this type of devices is that the discrimination is limited.
So you'll have to dig a lot of trash before finding a good target.
One of the recommended models is the Tesoro Sand Shark. It has a 10.5″ Coil.
It can be used up to 200 feet underwater! The battery can last somewhere between 10 and 20 hours depending on the settings.
The second type is VLF: very low Frequency.
They have a good discrimination capability but they're not as good as PI when dealing with mineralization.
The Garrett AT max is a VLF device. It is foldable and it comes with a case. It has a 12″ DD search coil.
It is fitted with the Z-lynk technology, which allows it to transfer the audio signals to the headphones wirelessly.
It can also be used in the land just like any other metal detector.
There are other good underwater metal detector. Each one of them is suitable for a certain depth, You can find more about them here.
Best pro metal detector
The best machine in the world I know of so far (this is my humble opinion) is the XP DEUS.
Everything is wireless: the headphones, the control housing, and even the coil.
There are two versions of the Deus headphones. They're similar.
What's unique is that you can control the metal detector using your headphones.
They have a mini screen and a few buttons.
It has lithium-ion rechargeable batteries instead of alkaline ones.
Its control box (they actually call it a remote control) is compact.
The software can be upgraded when available using a computer.
And more…
The problem is that is very expensive. Not everybody can afford to buy this thing.
It's like Lamborghini, you know it's the best (this is again my humble opinion), but you can't afford it.
Anyway, let's keep diving into this post.
Cheap detector
ALLOSUN Junior is a very basic metal detector. Its depth range is limited.
For example, a 5 cent coin will only be detected when it is less than two inches close to the coil.
It's fitted with a torch (not really useful). And it's available in many colors.
It runs on a single 9 V battery. The shaft is adjustable. You can adjust the sensitivity with a small knob in the handle.
The assembly is easy, you only need a screwdriver.
It has an onboard speaker and an earphone jack. And It's not waterproof.
It's the cheapest one I know so far but I classify this detector as a toy.
Best mid-range metal detectors
The Garrett AT Pro, Fisher F5 and White's MXSport are considered as intermediate machines, they're mid-priced.
If you're new to this hobby, you can skip this section and take a look at the buyer's guide.
Garrett AT Pro
The Garrett AT pro has an 8.5" x 11" DD search-coil.

Most of the detectors I listed in this article so far, the coil is waterproof and the control box isn't.
But the AT pro is fully submersible. It can be used underwater without a problem up to 10 feet underwater.
With this metal detector, you get headphones that can only be use in the land.
It doesn't mean that you have to rely on the onboard speaker while hunting treasures underwater.
Garrett made headphones that can be used underwater. However, you have to buy them separately.
When inserting the coil's connector, make sure the O-ring is well in place. It is preventing the water from getting in.
If everything is Ok, you should be able to hand tightening the connector's collar easily.
If not, remove the connector and adjust the O-ring.
Since this an advanced metal detector, the ground balance is adjustable.
The ground could contain some minerals that may interfere with the device and hindering its performance.
This why you need to adjust the ground balancing. It can be done manually or automatically.
The Garrett AT pro has all the features that a standard detector has.
It has a waterproof LCD screen that helps you to identify the nature of buried metal without having to dig it.
It's very similar to the display used in the Garrett ACE 300i.
There's a legend above the screen and a digital ID.
It has also a depth indicator, a battery gauge, a discrimination mode selection, pinpoint button…
From the outside, it looks like a more advanced version of the ACE 300i.
The appearance is something but what it can really do is something else.
In addition to the advanced features already listed (adjustable frequency and ground balance, waterproof), this device offers the pro mode.
In this mode, you have a faster recovery speed, which allows you to distinguish between targets very close to each other.
The tone will vary in accordance to the target's size and depth.
As it's name suggests, this mode is meant for advanced users.
If you're a beginner, you can, at any time, select the standard mode.
You'll hear the usual tones with the fixed volume whenever a target is detected.
In both modes, you still can distinguish buried targets by the tone ID.
This means that the tone will depend on the target's conductivity.
White's MXSport
The White's MXSport has a 10" round DD search coil.

The entire unit is waterproof. you can use it underwater up to 10 feet deep. It's IP68 certified.
It comes with a coil cover to protect it from cracks and scratch
The screen is sporty, it looks like a super car dashboard and it's backlit.
The shaft is adjustable. The length vary between 41 and 50".
It runs on 8 AA batteries that could last for more than 20 hours.  And if you're not using the screen's backlight it can last for 40 hours.
This also depends on the quality of the batteries and the operating temperature…
The frequency is slightly adjustable. This adjustaments aren't means to improve the device's perfrmances.
It's made to avoid inyterfrence with nearby metal deetcors to avoid interference. It is set to 13.8kHz.
It has 7 search modes:  all metal, coins and jewelry, beaches, prospecting, relics, pinpoint, high-trash.
Like many advanced metal detectors, ground balancing is automatic.
The sensitivity, the volume and the discrimination are all adjustable.
One of the impressive things about this device is the number of the audio tones.
It doesn't have only 3, 4, or 5…
It offers 20 audio tones, one for each target ID segment.
That can be overwhelming for a beginner, but not for a pro who trained his ear for a long time.
This product is aimed primarly to US users because tragt ID displays American coin names: half dollar, quarter…
But the depth indicator can show values in inches and centimeter (good for European users).
Fisher F5
The display of the Fisher F5 isn't as attractive as the screen of the White's MXSport.

It tells you about the usual information such as the target ID and the battery status…
And it adds a so called confidence scale. It means how certain the device is about the target identification.
The screen shows you also the magnetic susceptibility of the soil (the bar under the Fe3O4).
You have many parameters to learn. The Fisher f5 is surely not a device for beginners.
The phase section tells you about the type of ground mineralization.
And since the soil's composition varies from one place to the other, this number is always displayed (except in pinpoint mode) and updated.
When you press the pinpoint button, you'll see an estimation of the object's depth.
The estimation is based on a coin-sized object.
The device runs on two 9 volts batteries (included).
The user can adjust the frequency. However, you only have three choices: the default frequency plus two alternatives.
It's useful when you think the erratic behavior of your detector is due to electromagnetic signals emitted from nearby sources (power lines, friends' devices, mobile phone…)
After changing the operating frequency, you may have to readjust the ground balance accordingly.
Advanced users may need to adjust the ground balance settings to cancel signals from the soil's minerals.
If you don't know how to balance it, you can leave it as is and stay away from highly mineralized spots. The default value will be 82.
The fisher F5 introduces a new parameter called gain. To me, it looks like a fancy name for the sensitivity.
Because, when increase the gain, you increase the depth range of the machine.
The Fisher F5 can help you identify the metal type with tones.
You'll hear different sounds for different targets.
You can select between four audio modes, from d1 to d4.
Step by step buyer's guide
Before buying a new detector, there are few things that you should put into consideration.
This way you'll be able to pick the best metal detector that fits your needs.
Because there's no universal machine for everything. Every device is made for a certain purpose.
The user
You should ask yourself: who will use the device?
Is it going to be a gift for your son? Are you the one who will use it?
If you intend to buy a device for kids. It needs to be lightweight.
Children can't swing a heavy machine for a long time.
The stem should be adjustable to fit the kid's size.
You should also think about the user's level of experience.
Is he a newbie or an expert with years of experience?
For beginners, you better pick a model that does exactly the task required without being too expensive like the bounty hunter 4 and the fisher F22.
You don't want to buy and advanced machine for a lot of money to find out later that you don't like this hobby.
Budget
The budget is something that you should think of regardless of what you're buying (unless you're Bill Gates!)
You should select the best detector within a certain price tag.
If you do well and find good targets like many 14 k rings (good luck with that), you can upgrade to a better machine.
You can even upgrade the detector itself by installing a new coil for example.
The area where you live
If you' live an area where it rains often, your device should be weatherproof like the Fisher F22.
You can also buy other machines if you like them. However, you need to protect them with a rain cover.
Each brand and model has its own product. If you want to learn more about hunting in a rainy day, you can check out this article.
Many metal detectors have waterproof search coils. They can be submerged up to the control box.
So if you live near lakes, creeks… any standard metal detector should be OK.
If you're a diver you need an underwater device.
Intended use
You should ask yourself, what's the purpose of buying a new metal detector?
Are you going to use it for gold prospecting, scuba diving, coins hunting…? Will it be an all-around machine?
This criterion will help decide which machine is best for you.
Equipment needed for metal detecting
If you want to get into this hobby, you need some tools. Obviously, one of them is a detector. But you still need some other tools.
Some of them are necessary, others aren't. However, they may make your hunts even more enjoyable
Trowel and a shovel
A trowel is a must have tool. What's the point of finding a target without digging it?
It's a small hand-held tool with which you can dig the ground.


Sometimes, the target is too shallow that it can be popped out with a screwdriver.
When you find these kind of targets, don't hesitate. Easy hunts are always good.
If you're hunting in the woods, you can use a shovel, with it you can dig deeper holes easily.
But, it's not recommended to use a shovel in a park.
Pinpointer
The pinpointer, will help you locate exactly where the buried item is.
This means that you'll dig smaller holes which requires less effort, target recovery will be faster and the hole will look nice and tidy.
Sometimes, you can't dig a hole because of the tree roots. A pinpointer, thanks to its small size, can be poked in to locate the target.
Some of them have a built-in LED so that you can see easily what's inside the hole.
It's important to note that some models of detectors have a built-in pinpointing feature, having a separate pinpointer has many advantages.
Headphones
You can use your metal detector without headphones. However, they can extend the battery life.
You'll not annoy the bystanders by the frequent beeps. And you'll be able to focus on hunting if there's a lot of noise in the surrounding area.
Coil cover
You need to swing your coil from side to side and slightly above the ground.
The coil can be cracked if it hits a rock and it can be scratched.
To protect it, you need a coil cover.
Pouch
After recovering the target, you need something to put in. You can put your find in your pocket.
But some of them may be sharp and they can puncture your pants…Placing them in a pouch is safer.
Harness
When you install a large coil, you add some weight. If you think your machine became too heavy, a harness can help distribute the extra weight.
Pants
You can wear any pants for metal detecting, however, there some features that will make your hunts more comfortable.
I have a separate detailed article about the subject. But I'll summarize some of the points here quickly.
An ideal metal detecting pant should have built-in pads, plenty of pockets, comfortable, good quality fabric…
Additional search coils
If you're a beginner stick with the stock coil. It can do a good job in most situations.
But if you want to increase your detector's performance, you can upgrade it.
Coil's size
If you want more depth, you need a large coil.
As a rule of thumb, the depth range is equal to the coil's size.
But more depth, means more ground minerals that can hinder the detector's performance.
They're also heavy, you may need a harness to support the additional weight.
If the area you're metal detecting is infested with iron junk, you need to use a mini coil a.k.a a sniper coil.
Its diameter is less than 5 inches.
In addition to their ability to deal with trashy soil, they can be used to scan tight areas and they're more sensitive to shallow targets.
But the surface covered when sweeping the coil is limited. Moreover, the depth range is limited.
After replacing the coil, you may notice a shift in the readings of the depth indicator you may also have to adjust the ground balance.
Search coil's shape
A search coil is made out of two parts: a transmitter and a receiver.
When you place them next to each other, you get a DD coil (it's just another name).
If one is inside the other, it's called concentric.
The first one is better for dealing with trash. With the second one pinpointing is easier.
Questions detectorists could ask
How does a metal detector work?
As previously said a search coil is made out of a transmitter and a receiver.
When current flows inside the transmitter, it will generate an electromagnetic field.
If there's a metal object nearby, this field will induce a current in it which will produce another electromagnetic field.
This field will be detected by the receiver. Basically, this it.
Ground balancing
The soil's composition is different from one place to the other (even a couple of steps away).
You can see that with the naked eye. Some places have red soil, others brown, and other yellow…
In all kinds of dirt, you find minerals like iron minerals and dissolved salt minerals.
Each one of them produces one type of signals, which will prevent the metal detector from seeing the buried metal object.
The solution to this problem is called ground balancing.
With this feature, the device will be able to cancel the unwanted signals and focus only on the signals emitted by the target.
This way, you'll be able to extend the depth range and the machine will work quitter.
Do you need to adjust it?
If you're a beginner. You don't have to worry about it.
Ground balance is many entry-level machines is preset by the factory. So it should work in most cases in any soil that has a standard composition.
For advanced users, you can adjust it automatically or manually if you want to hunt highly mineralized areas.
Sensitivity
In a nutshell, increasing the sensitivity means increasing the depth the device can reach.
However, if there's a lot of interference, the machine won't perform well.
The ideal settings is to keep increasing the sensitivity to reach the equilibrium point: maximum depth with no noise.
Discrimination
You can find all sorts of stuff buried underground. You can find nails, bottle caps, pull-tabs, rings, coins….
The detector has a built-in speaker that will beep when it receives a signal from a buried object.
You can program your machine to only emit an audio signal when it detects something precious like a necklace.
This operation is called discrimination.
It's not always accurate. Many metal detectors confuse pull-tabs and gold rings.
It's true that when you discriminate pull-tabs you'll get rid of them. But, you may be inches away from digging a ring.
Conclusion
I hope you found this article useful. If you have any question or if you want me to add some sections to this article, feel free to tell me in the comments.
If you are looking for an affordable decent metal detector, pick the bounty hunter 4.
Happy hunting!