(This post may contain affiliate links. I will earn a commission at no extra cost to you.)

In this article, I'll show some of the best pinpointers for metal detecting.
I'll tell you what are the advantages of such a device. You'll also find a small easy-to-read buyer's guide.
Here you can find a list of the top pinpointers. And I think the Garrett pro-pointer AT is the one that you should pick.
Garrett Pro-Pointer AT
Garrett Pro-Pointer AT is my top recommendation. It is the most popular pinpointer; it completely crashes the competition.
Apparently, detectorists liked it so much that they nicknamed it. It's sort of a funny name. But it fits its appearance. It's called the Garrett Carrot.

I think when looking to this picture, you obviously know why it's named that way.
Garrett chose that color for more visibility underwater.  This device is waterproof and it can be used up to 10 feet underwater.
It also helps you find it if you lost it in the grass. The color contrast will draw your attention. Maybe this why many safety vests are orange.
It has an LED light to help see narrow holes. It can be useful to identify the targets you've dug if you hunt in low light conditions.
The outer shell of the carrot has a scraping blade to help the user move the dirt away after digging a hole.
You can also use the ruler molded on the shell to measure the target's depth if you want to.
With this device, you receive a belt holster and a 9 v battery.


The low battery alarm will tell if it's time to replace it. Don't forget to tighten the battery cap to prevent water from getting in.
You have only one button to adjust this device's settings. One button for all can be annoying when first starting to use it. But you can get used to it.
You can narrow down its detection range. You can also retune it to deal with mineralization.
There are three levels of sensitivity to choose from. And you can rely on vibrations instead of the tones to detect the presence of a nearby metal object.
Garrett made another version of this pinpointer, it's very similar. The major difference is that they added to it the z-lynk.
It's a technology made by Garrett to transfer the signals wirelessly from the detector and the pinpointer to the headphones with minimum delay.
If you want to learn more about the Garrett carrot, please take a look at this review.
White's Bullseye TRX
The number one advantage that the White's Bullseye TRX has over the competition is that it can detect gold better than the others.
It can be powered by a single 9 volts battery or with two AA batteries. To swap between one type and the other, you need an adapter.

It's IP 68 certified. This means that it's waterproof.
When you get closer to the target, the beeps' frequency will increase. And if the probe is too close, the audio signal will become continuous.
If you think the beeps are annoying, you can turn the speaker OFF and use the vibrations.
You can tun both of them ON at the same time. However, the battery life will be shorter.
No tuning required. The detection field it concentrated around the tip and its range can be adjusted.
The pinpointer comes with a holster and it has a lanyard loop.
If the outer shell is cracked or too scratched… no problem.
You can replace it easily without having to buy a new device. That's a good feature that will save you money.
You can learn more about this pinpointer's capabilities in this post.
Nokta
The Nokta pinpointer has a LED light and lost alarm.
It's waterproof. But you can't use it as deep as the Garrett carrot.
It can be used underwater only for 30 minutes and no more than three feet deep.

The speaker is placed on the back. This a good design because, this way, you don't cover it with your hand when pinpointing.
But placing the buttons on the back isn't, for some, a good choice because they're not easily accessible.
You can choose between 10 sensitivity levels.
This device runs on a 9 V battery. You should expect it to hold for 30 hours more or less.
The Nokta is delivered with a case, a holster and two plastic tips, one of them has a small scraping blade.
Minelab PROFIND 35
All the pinpointers I listed in this post so far are made for only one purpose…
To locate the target regardless of its nature. It could be a rusty nail or a gold ring.
However, the Minelab PROFIND 35 has an additional feature. It can discriminate ferrous targets.
This is a useful feature to identify objects buried very close to each other. And will save you a lot of time if the soil is infested with a lot of junk.
This pinpointer runs on a single 9 volts battery. You have to replace it every 30 hours of usage.
A battery, a holster, a lanyard and a manual are included in the package.
To avoid any interference while metal detecting, this device is fitted with what Minelab calls DIF: detector interference free.
It has a lost alarm that will emit a beep if you forgot it in the hole you just dug.
Its weight, size, and shape aren't very different from the Garrett pro pointer AT. But it's fitted with three buttons instead of one button that adjusts everything.
If you want to learn more about this device especially its discrimination feature, check out this article.
Deus XP MI 6
The XP Deus MI 6 has a very fancy name with some innovative features.

It runs on a rechargeable battery instead of the good old alkaline batteries.
The charger isn't included but your smartphone's charger should do the job.
It can be paired with DEUS headphones (like the Garrett's Z-lynk), that way the pinpointer will keep quiet and you'll be the only who hears its beeps.
The user can also pair the pinpointer with DEUS metal detector.
You'll be able to select one of the 50 sensitivity levels available, which is oversized. I think 5 or 6 levels at max is enough.
After being paired, the pinpointer will be automatically turned OFF if you're using the detector. This feature is meant to avoid interference.
The pinpointer's parameters such us the battery level will be displayed on the remote's screen…
There are other features, I'm not going to list all of them here. For more details about this innovative device, you can click here.
In my opinion, the DEUS XP MI 6 by itself isn't very different than the other ones in the market.
It only becomes very interesting when it's linked to the Deus metal detector.
Cheaper brands
The pinpointers listed in this paragraph are cheaper than the 5 ones I've already talked about.
But their quality and detection range isn't necessarily as good as expected.
Bounty hunter Pinpointer
The bounty hunter pinpointer is cheap. However, its quality isn't as good as it should be.
The detection range is very limited. It is not waterproof. It's not fitted with an LED light.
You can't turn OFF the audio like other models where you can choose between audio signals and vibrations.
Bounty hunter made the most popular metal detector which is the Tracker 4. But, the pinpointer they've made isn't as good as the detector ( if they really made it).
Kuman GP-Pinpointer
The Kuman GP is very similar to the Garrett carrot. It has the same shape, design, and color… (Is this a coincidence?)
It runs on a 9 volts battery, which is not included. And it is fitted with a LED and It has a scraping blade.
The Garrett pro pointer AT is fully submersible up to 10 feet. But this one isn't. You can only submerge the plastic tip, which is not really impressive.
What is a pinpointer?
A pinpointer is basically a miniaturized metal detector with some differences.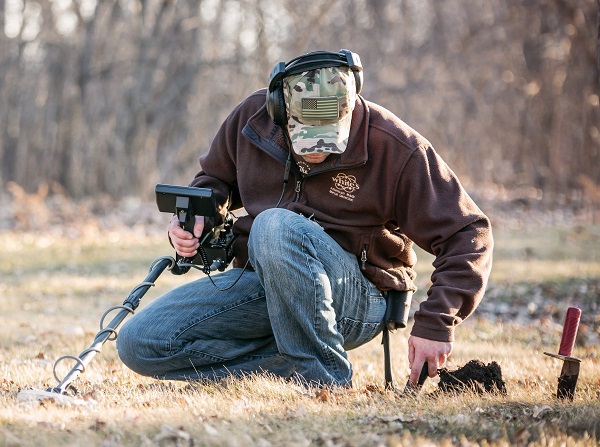 It's static, you don't have to swing it to locate the target. Just poke it in the hole you dug.
And move it slowly until you get an audio signal. In many devices, you can choose between vibrations, audio or both.
And their amplitude is proportional to the signal's strength, the closer the probe to the target the stronger (or the more frequent) the audio signal.
Since it's a mini metal detector, it lacks some features like the LCD screen.
It also has a limited number of buttons to adjust all the settings, which is boring.
Most of them cannot discriminate between targets except the PROFIND 35 that can distinguish between ferrous and nonferrous objects.
The pinpointer can also be built in some metal detectors like the Garrett ACE 300. You press a button and it will help you locate the target more precisely.
The goodie should directly under the center of the search coil.
How do you pick the best one for you? (mini buying guide)
If you hunt parks and crowded places and you don't want to annoy the bystanders, pick a machine in which you can select the audio mode.
You can select vibrations or audio signals. If you want to go one step further, there are some wireless pinpointers that transfer audio to your headphones.
However, vibrations should be enough in most cases.
The second thing you should think about is whether you're going to use your device underwater and at what depth.
Some machines are vulnerable to water and others are submersible up to a few feet underwater.
So read the specification and IP rating carefully before buying.
After taking into consideration all of these features, you should be able to choose the best pinpointer for you.
Do I have to buy one?
A pinpointer is a helpful accessory that makes your hunts easier.
However, you can go metal detecting and recover many targets without having to use one.
Maybe you don't have to purchase one of these devices (especially if the detector has a built-in one) but I encourage you to do it.
If you didn't make your decision to buy a pinpointer yet, you can borrow one from one of your friends or club mates.
Use it for a while, see if you liked it and whether it sped up recovering targets or not.
I'll tell you about some advantages a pinpointer has.
The detector's coil is a few inches large. When you hear a beep, you know that a metal object is under the coil.
The question is where is it exactly? You don't want to dig a hole 10 inches deep and 10 inches wide.
It's time-consuming. It takes a lot of effort especially if you're going to dig all the targets you find in the all-metal mode.
Finally, you have to make sure the plug is as small as possible to keep things look clean and to preserve the grass.
The pinpointer come in handy because it narrows down the search area. It has a limited search field that you can narrow down if want.
Sometimes the ground is infested by large tree roots that you can't cut easily with your trowel.
You can only dig a very small hole, just enough for your finger.
The pinpointer can easily be poked in these tight areas and you will be able to recover the precious item you've been looking for.
One of the advantages of having a pinpointer is preserving the target.
You may be a few inches away from recovering a precious relic that may be thousands of years old.
If you don't know exactly where it is, you may damage or break it with your digging tool.
Wrap up
The pinpointer has many advantages that make it a useful tool for metal detecting. There are many good models (and bad ones too) on the market.
To make sorting through all of these options easier for you, I recommend that you pick the popular Garrett carrot.