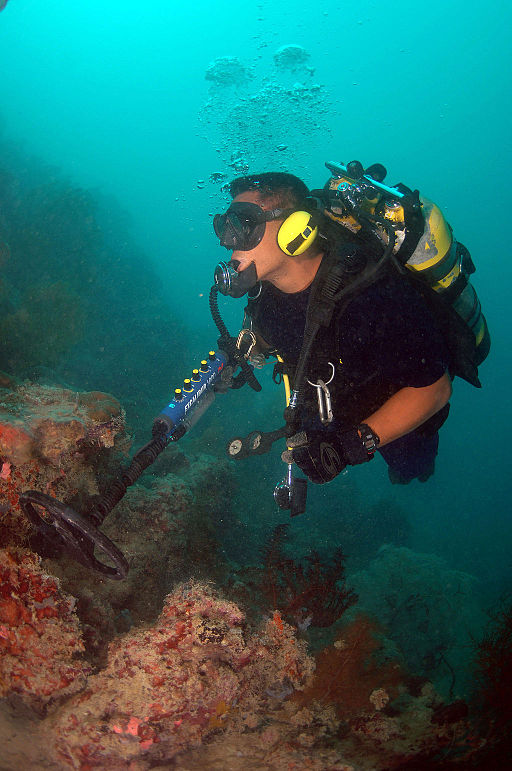 The underwater world is full of amazing things to discover. Some like swimming with undersea creatures, others like exploring reefs and others are looking for hidden treasures that could be scattered around forgotten shipwrecks.
In order to find them, you need the right gear most importantly a metal detector. In this article, I'll help you pick the best underwater metal detector.
Buying guide
In this guide, I'll explain some of the terminology and I'll tell you about what you should consider before buying an underwater device.
I'll focus only on the detector side (this is what I know) because I'm not a scuba diver (I don't even know how to swim). Feel free to ask me anything you want in the comment down below.
VLF vs PI
There are two types of metal detectors: VLF and PI.
VLF stands for very low frequency. The search coil is composed of a receiver and a transmitter.
The transmitter emits electromagnetic signals to detect nearby metals. The receiver will pick up the signal from the metal object.
VLF are the most popular detectors on the market. The frequency of some models is preset and it can be adjusted in other models. Usually, this type of devices operate between 3 and 30 kHz.
VLF machine can distinguish between metals. It can tell the difference between gold and iron for example.
However, they don't work well in salty water or in environments full of minerals. Adjusting the ground balance and the sensitivity can help with the chattering.
PI is the abbreviation of pulse induction. The same circuit acts as both a transmitter and a receiver. Not many detectors use this technology.
It can work in saltwater without a problem. But it can't tell the difference between the different metal types; It will beep whether it detected gold, silver, or a rusty piece of junk.
Depth and water salinity
There are many waterproof metal detectors on the market. Each one of them is rated to handle a certain depth.
Usually, the deeper it can go, the more expensive it gets. Therefore, you need to pick a device that can do exactly what you want (with a safety factor of course). You'll be wasting money by picking an oversized machine.
If you want to metal detect shallow creeks, rivers, ponds, lakes…then go check out this guide.
You will find affordable devices that can work in waters that reach the waist level. They can do so because the search coil and the cable are waterproof; however, the control box is not.
If you want to go a little bit deeper (snorkeling or shallow diving), you need a fully submersible metal detector. They can usually work up to 10 feet underwater. I'm going to recommend good devices in the following paragraphs.
There are devices that can go way deeper than that (around 200 feet depending on the model and make). These are more than enough considering that scuba divers won't go deeper than 130 feet.
Before going to the next paragraph, I wanted to remind you that you should also take into consideration your budget and experience level. Don't pick and advanced pricy detector if you are new to this hobby.
Can underwater detectors be used on land?
It depends on the make and model. Many of the detectors on the market can be used both inland and underwater without a problem.
Best underwater metal detector
These are three of the detectors that can be used underwater. There are other good ones as well.
Garrett AT PRO
The Garret AT PRO is submersible up to 10 feet underwater. This is not that extraordinary for a professional scuba diver. This detector is suitable for shallow waters only.
So if you are looking for a reasonably priced device and you are not planning to go too deep, the AT PRO is definitely a good choice.
If you plan to dive deeper, you should pick another machine that can be used even under 200 feet of water for basically the same price.
This is a VLF machine. Its frequency is 15 kHz. It is slightly adjustable to prevent interference with nearby devices.
The ground balance is adjustable. So this machine can work both in fresh and saltwater. It can be adjusted manually or automatically.
The machine's speaker will emit an audio signal if an object is detected. You can also buy waterproof headphones. The included headphones are for land use only.
When an object is detected, the device will give you an estimation of its depth. And it will help you identify its nature. Simply look at the target ID legend on top of the screen or learn how to read the target ID.
The included pinpoint feature can help you narrow down the search area. The AT PRO is an all-around detector; it can be used inland.
Garrett Sea Hunter Mark II
The Garrett Sea Hunter Mark II is a PI metal detector. This means that it can operate smoothly in saltwater. It emits 750 pulses per second.
It can be submerged up to 200 feet underwater. You need nothing more than that for scuba diving.
This unit comes with submersible headphones. The control housing is removable. You can mount it on your hip, on the stem, or under the armrest.
The sea hunter runs on 8 AA batteries. They should last somewhere around 20 hours.
Make sure you hand tighten the battery cap whenever you replace them. Check if the O-ring looks fine. These steps are important to prevent water from getting inside while diving.
Tesoro Sand Shark
This is another pulse induction machine. It emits 600 pulses per second. It can withstand 200 feet of water.
You can choose between a variety of search coils with different diameters: 7, 8, 10 and 10.5 inches if you don't like the stock one.
Each one of them is suitable for a different type of hunts. For example, the smallest one is best for hunting small targets such as gold nuggets.
It runs on 8 AA batteries that can last for somewhere between 10 and 20 hours.
Its control box is removable. It can be mounted under the armrest, under the pole or hip mounted.
However, the headphones cannot be removed. So you'll have to stick with them even if you don't want to use them.
Conclusion
I hope these tips helped you pick the right device for your next scuba adventure. If you have any questions, feel free to ask them in the comments below. And by the way, Don't forget to check this article about real-life treasure hunters.