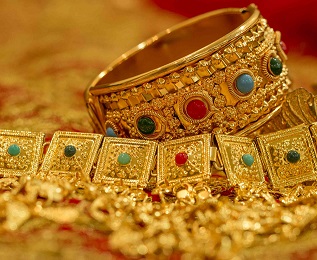 Many of you are familiar with Indiana Jones, Treasure Island, and the rest of the movies about treasure hunting.
What you will find out here is something different. I'll share with you a list of 11 real-life treasure hunters.
I repeat, they a real. They are not actors or show hosts. Many of them are professionals. This is how they make a living (a good one actually).
Brent W. Brisben
Brent W. Brisben is an American treasure hunter. He is famous for discovering and salvaging the 1715 Treasure Fleet. The fleet consisted of 12 ships loaded with precious materials.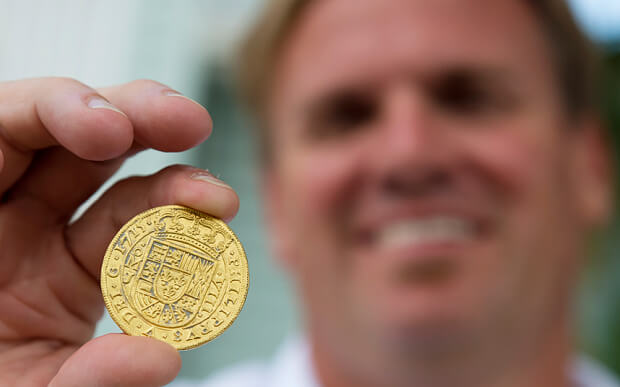 On July 31, 1715, 11 ships sunk because of a hurricane. They remained underwater ever since until they were discovered 250 years later near Florida.
Over the years, Brent salvaged hundreds of thousands of dollars worth of gold and silver from this location. Most notably, on the 300th Anniversary of the fleet sinking, he recovered 4.5 Million worth of gold and silver.
This event made Brent a famous treasure hunter. He has the exclusive rights to salvage the wreck, which is, surprisingly, very close to the shore.
Gregory Stemm
He is the founder and CEO of Odyssey Marine Exploration. This company specializes in locating and salvaging Shipwrecks. Greg is known for discovering the SS Republic. It was loaded with 400,000$ US coins (they are worth more now).
The ships sank in 1865 near the coast of Georgia. It was found 1700 feet underwater. The company is working on many other projects and has many more achievements.
One of the most famous is the Black Swan Project. Greg discovered a Spanish frigate loaded with precious metals. He shipped 17 tons of coins (mostly silver) to Florida. He then stored them in secure and secret locations.
Laurence Egerton
Laurence is not a full-time treasure hunter. He works part-time in real estate. He used to spend many hours a week metal detecting without finding anything precious. But in 2013, when he was 51 years old he discovered 22,000 Roman coins.
In this video, Laurence shares with the us the moment when he discovered the hoard.

He found them in Seaton in southern UK. The discovery doesn't have any precious metal content. However, it was declared a treasure because of its historical and cultural value.
It was sold for over 100,000$. According to the treasure act, the money will be split between the lucky treasure hunter and the landowner.
This coin collection is currently on display at the Royal Albert Memorial Museum. It is a large collection; artifacts' experts spend nearly 10 months cleaning this 150 pounds trove.
Tommy Gregory Thompson
He discovered the SS Central America in 1988. The ship sank in September 1857. It was loaded with 30,000 pounds of gold!
The treasure was recovered using a remotely operated vehicle. The total value of the gold is estimated to be worth somewhere around 120 million dollars. A single ingot (80 pounds) was sold for 8 million dollars.
This treasure hunter wasn't honest. He was apparently hiding some portions of the treasure for himself. He didn't tell his crew and the investors who sponsored his quest about it.
Mel Fisher
He is an American treasure hunter who was born in 1922 and died in 1998. He is best known for discovering the Spanish galleon Nuestra Señora de Atocha. He discovered it on July 20, 1985.
The goodies that he found are estimated to be worth 450 million dollars. It consists of 1000 silver ingots, 114,000 Spanish silver coins, gold coins, and gold and silver relics. The total weight of these precious metals is 40 tons!
The treasure also included a number of Colombian emeralds. They are the finest in the world.
And not just that, according to the historical documents, 300 silver bars are still missing. They are believed to be in the sterncastle, which hasn't been yet discovered.
Paul Coleman

Paul made over 1.35 million dollars for selling the treasure he discovered in Buckinghamshire, UK. This discovery is fairly recent (in 2014).
He is retired and he is 60 years old. He has all the time he needs to pursue his quest. Paul is a professional metal detectorist. He has been in his hobby for 50 years and he an active member of his local metal detecting club.
In one of the hunts organized by this club, he discovered what appeared to be manhole or a bucket. Upon further inspection, it turned out to be more than 5000 Anglo-Saxon coins. They are made from 10% silver.
Eric Lawes
In my opinion, Eric isn't a pro treasure hunter. His discovery is the result of pure luck. He was helping his friend locating a lost hammer with a metal detector.
The treasure he found is very precious. It included more than 14,000 items. A large portion of them is made of gold and silver.
The gold artifacts weigh, in total, 7.7 pounds. Whereas the silver ones weigh 52.4 pounds. There are bronze relics as well. They are valuable because of their historical importance. This treasure is estimated to be worth more than 2 million dollars.
Ty Paulsen
In 1978, Ty found a different type of treasures. It was a massive gold nugget that weighs 10.8 pounds!
Ty told nobody how much money he got from selling his treasure. Experts estimated that it is worth 250,000 $. (Nearly 1 million dollars nowadays)
He invested some of it to buy an RV and went back to the same location. He didn't tell anybody exactly where he found it. All we know is that it was somewhere near Randsburg, California.
It is an abandoned mining town. So if you want to find something similar, you know where you should go.
This is not the only find in the region. In 2014, another treasure hunter found a large nugget. It weighs 6 pounds. He found it while metal detecting in Butte County, California and sold it for 400,000$.
I didn't include him on this list because he wanted to remain anonymous. Only a few people know his real name.
Edward Lee Spence
Edward claims that he helped recover over 100 million dollars worth of treasures along his career. He discovered his first shipwreck when he was only 12 years old.
He made a lot of money from his discoveries. But he couldn't keep all of it for himself. Salvaging sunken ships is expensive. Investors and governments will take their share.
For him, money isn't the primary motive. He is simply passionate about it. He likes history and adventures.
Locating lost treasures isn't an easy task. It takes a lot of research and examining many documents, maps and old books. This helps him know more about the ship's route and its precious cargo.
Reg Mead and Richard Miles
Reg and Richard discovered a large treasure. It consists of nearly 70,000 coins. This discovery broke the Guinness world record with an estimated value of 13 million dollars.

Reg and Richard discovered this hoard while detecting in Jersey, UK in 2012. This discovery wasn't accidental; they knew that this location was packed with treasures.
A friend told them in the 1980's that when she was young, her father found a pot of silver coins when he was pulling a tree.
The duo first used entry-level metal detectors; they discovered 120 silver coins. They later upgraded their equipment and found more.
Kevin Hillier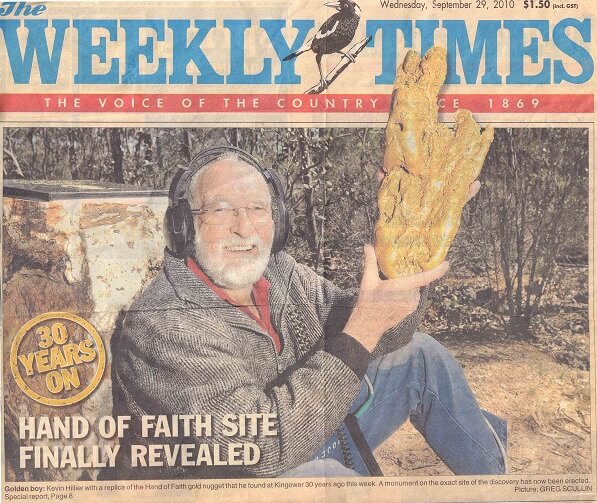 Kevin was having financial issues; he couldn't work because he was suffering from a back injury. So he spent his time scanning the ground with his metal detector. It is a great way to pass time and to recover. Doctors said that walking would help him recover.
On 26 September 1980, He discovered a huge gold nugget. It weighs 60 pounds or 27 Kg. This huge find was located only 12 inches under the ground.
This treasure was sold 1 million dollars. It is displayed at the Golden Nugget Casino in Las Vegas.
It's time to join them!
If you made it this far, I think you are interested in becoming a real-world treasure hunter yourself. I think you've noticed that gold can be found inland or underwater.
Underwater treasure hunting requires a lot of training, knowledge, and money. You also need heavy machinery, investors and an experienced crew. This is not available to everybody.
Inland treasures are easier to find. You need nothing more than a metal detector. For UK detectorists, an entry-level device will do the job. You can find more details about this device here.
In Britain, what you are looking for is hoards of coins and other relics. They are relatively easier to find.
For US detectorists, you have t pick a metal detector specially designed for gold nuggets. You can find them here.
Native Americans didn't master metallurgy. So you can't find coin hoards. But, you can find a lot of gold.
This is why you need to focus on gold nuggets. You can find them in gold-rush states like California and Colorado. There are many good opportunities. You only need modern tools to take advantage of them.
Good luck with finding your treasure!